The Conference Center is located in the Solstice Building at 1535 Liberty Lane, Suite 114. It is primarily for the use of commercial tenants and their clients. As a community amenity, it is also available for rent by outside community organizations and groups upon approval. Approved uses include meetings, conferences, programs and workshops. The Conference Center is managed by Homeword, and inquiries and reservations can be made by contacting us via phone or email.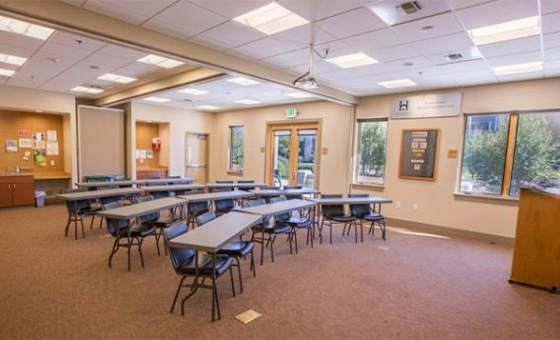 Non-profit organizations:
1 ‐ 4 hours……..$50
4 – 8 hours…….$75
For-profit organizations:
1 ‐ 4 hours……..$100
4 ‐ 8 hour……….$150
ROOM FEATURES AND AMENITIES
The Conference Center is approximately 817 sq. ft. in floor area, not including storage closets and cabinets. The space can be broken down into two or three separate meeting spaces by using room dividers. Conference Room 1 is approximately 336 sq. ft., Conference Room 2 is 204 sq. ft., Conference Room 3 is 204 sq. ft., and Conference Room 2 and 3 combined is 408 sq. ft.
The room is equipped with:
Ceiling‐mounted LCD projector with automatic screen
Four built‐in speakers throughout the room
Wireless internet access
18 five-foot tables and 50 chairs
Whiteboard wall paint
Counter with sink and filtered water
Commercial coffee maker with air pots, Hunter Bay coffee and coffee condiments
French doors opening to patio
Break room with kitchen, stove and microwave
Plates, silverware, cups and glasses
CANCELLATION POLICY
Reservation fees are due once reservations are approved and no later than 24 hours before the event.
All cancellations should be made within 48 hours of the scheduled time.
Contact us via phone or email for cancellations
Reservations fees are nonrefundable. Instead, a credit will be available for you to use towards your next reservation. Credits will expire after 6 months.
SCHEDULING CONFERENCE ROOMS