This class provides you with essential money management skills to help you navigate your complex financial world. In our free, statewide financial skill building class you will learn to:
Quickly adapt to income or expense changes
Build solid financial judgment
Address credit and debt challenges
Offered semi-monthly, classes are taught by certified financial counselor Katie Sadowski in collaboration with other professionals in the community who volunteer their time by providing expert instruction on a range of financial topics. Materials are based on national curricula from FDIC and NeighborWorks America. See the agenda for more class information.
Please see our Classes and Services page for information about childcare vouchers and accommodations.
UPCOMING CLASSES
Registration for Financial Skill Building opens two months prior to each class. Currently scheduled upcoming classes are:
ONE-ON-ONE COUNSELING
We strongly encourage you to sign up for individualized, free, one-on-one financial counseling sessions if you have completed the Financial Skill Building class. Contact Katie Sadowski, our financial educator, to schedule an appointment, and visit our Counseling Services page for more information about all our counseling options.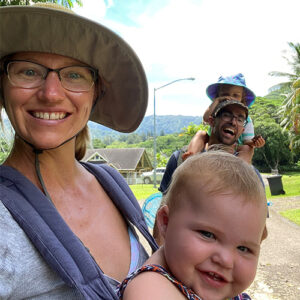 ABOUT THE INSTRUCTOR
Katie is Homeword's financial educator. A wife and mom, she has two little girls who love to be active and dance at the drop of a beat. She tries to make challenges easy and fun by teaching participants the simplicity of managing cash flow. She loves seeing their savings and hope for the future light up.
Katie has a bachelor's in accounting from the University of Oregon and worked for 10 years in tax preparation and outdoor education. She uses her training in experiential education to make finances come alive for our class participants. Her other qualifications include being a HUD Certified Housing Counselor, a Chartered Financial Consultant through the American College, an Enrolled Agent in inactive retirement status, and regularly completing training with the Credit Builders Alliance Training Institute.
SPONSORS
Thanks to our generous sponsors, we are able to provide our financial education program at no cost to our clients. Learn more about sponsorship »
Housing Counseling and Education clients are not obligated to use any product or service offered by sponsorship agencies, their affiliates or partners. Homeword will provide information on alternative services, programs and products. Clients should consider a variety of resources and options and select the resources that best meet their needs.
FUNDERS
Many thanks to our generous funders who help make it possible to offer our HomeOwnership Programs!