No matter where you are on your journey to homeownership, our nationally certified homebuyer class is for you. You will learn how to:
Select a lender
Determine what you can afford
Use your credit wisely
Distinguish between different types of loans
Understand home inspections and insurance
Identify special financing programs
Work with a real estate professional
Evaluate the pros and cons of homeownership
Offered monthly, this course is taught by Homeword's HUD Certified Housing Counselor and Homebuyer Educator, Julie Pavlish, and other professionals. See the agenda for more class information.
Please see our Classes and Services page for information about childcare vouchers and accommodations.
UPCOMING CLASSES
Currently scheduled upcoming classes are:
Nov. 11
Dec. 9
Jan. 23-25
DOWN PAYMENT ASSISTANCE
Each person who successfully completes the entire course is provided with a certificate that is required for many down payment assistance programs and other lending programs for first-time homebuyers.
Homeword does not offer down payment assistance funds or loans, but our instructors and counselors can refer you to available down payment assistance options in the community.
ONE-ON-ONE COUNSELING
Visit our Counseling Services page for more information about all our counseling options.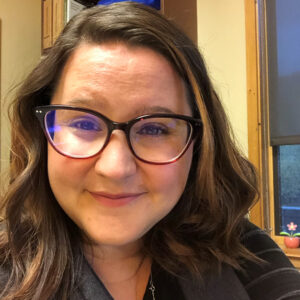 ABOUT THE INSTRUCTOR
Julie is Homeword's homebuyer educator. Often found enjoying Missoula's Hip Strip, she is happiest puttering around in her garden or capturing one of her cats for a snuggle. The thing she loves most about her work is empowering others to accomplish their financial goals and together building a bright, diverse and vibrant community.
A graduate of the University of Montana, Julie focused on financial literacy education early in her career. She became a certified financial counselor in 2013. Before joining Homeword, she worked at the University of Montana's Financial Education Program helping students understand the long-term financial impacts of their educational choices and how to repay their student loans. At Homeword her focus remains helping community members understand their financial options and chart courses to achieve their financial goals. Julie is a HUD Certified Housing Counselor, a National Center for Home Ownership Education and Counseling (NCHEC) Housing Counselor, and has been certified for Credit Counseling for Maximum Results.
SPONSORS
Our programs are made possible thanks to the generous support of our HomeOwnership Center sponsors. Learn more about sponsorship »
Housing Counseling and Education clients are not obligated to use any product or service offered by sponsorship agencies, their affiliates or partners. Homeword will provide information on alternative services, programs and products. Clients should consider a variety of resources and options and select the resources that best meet their needs.
FUNDERS
Many thanks to our generous funders who help make it possible to offer our HomeOwnership Programs!