PARTNERSHIP BRINGS PERMANENT SUPPORTIVE HOMES TO GREAT FALLS

Across Montana, the number of people forced into houselessness is rising. As the need for homes our neighbors can afford continues to grow, working together is essential to effect positive change. We're partnering with longtime collaborator NeighborWorks Great Falls (NWGF) to transform the vacant Baatz Building in downtown Great Falls into homes for people experiencing houselessness.
NWGF specializes in homeownership services, including self-help single-family home construction. The organization has assisted more than 4,000 families to become homeowners in Great Falls since 1980. They recently began developing multi-family apartments with one new construction project, Rockcress Commons. NWGF has also acquired quality rental homes the people of Great Falls can afford to rent.
To make a bigger impact on Great Falls and Cascade County, NWGF also collaborates with the local Continuum of Care for Homelessness group. Together these organizations bring services to people in their community experiencing housing instability. They determined in 2021 the ideal next step would be creating permanent supportive homes.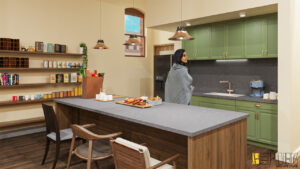 Permanent supportive homes have wrap-around services for people experiencing short-term to chronic homelessness. They are designed to connect people to homes, positive social networks and services to improve all aspects of their lives. Experts believe permanent supportive housing is key to the long-term reduction of houselessness throughout the country.
Since the development of permanent supportive homes is a brand-new venture for NWGF, they reached out to us for our experience in this area. We are currently completing our first permanent supportive homes at Blue Heron Place in Missoula with Missoula Housing Authority and BlueLine Development. We also have extensive experience creating multi-family rental homes Montanans can afford, managing low-income housing tax credits, rehabilitation and historic preservation.
With the Baatz development, NWGF is gaining experience with the low-income housing tax credit process. In turn, we can further our mission to create homes Montanans can afford and get more experience developing permanent supportive housing.
Over the past two years, we worked to establish the financing structure for this project.
The general contractor has been a great resource for identifying possible cost savings and constructability issues before construction.
A tax-credit syndicator, who manages the sale of tax credits to various investors in affordable housing development, worked with the development team on due diligence. The goal is to close the tax credit partnership mid-summer 2023.
The development team has also been working with the Great Falls Housing Authority to secure rental assistance for 24 of the 25 homes. We received commitments for funding from the Montana Department of Commerce Community Housing group at Montana Housing, Cascade County and the City of Great Falls as well as some private funding sources, too.
Finally, as part of an Environmental Protection Agency Brownfields grant administered by the Great Falls Development Authority, an environmental engineer prepared bid documents for the abatement and remediation of "hazardous" materials in the historic building. This includes lead-based paint, asbestos-containing flooring adhesive and mercury thermostat switches. The hazardous materials work will happen prior to the tax credit partnership acquiring the building. It should be complete by June 2023.
When complete, the Baatz Block Apartments will offer studio, one- and two-bedroom homes upstairs. Common areas with service provider offices will occupy the ground level. The architecture and engineering team developed a trauma-informed design for the homes and ground-floor Community Services Facility. Opportunities, Inc. and Many Rivers Whole Health in Great Falls will take the lead in coordinating supportive services designed to build independent living and renter skills while also connecting people with community-based resources.
The anticipated date the homes will be available is late fall 2024.
We can't wait to start creating these homes for people facing significant housing stability challenges. Plus, redeveloping Baatz Block will make the community healthier and safer by giving new life to an unused, deteriorating building.
There are many people and organizations working long and hard to make this happen, especially the local services providers and the Continuum of Care group. We'd also like to acknowledge the following:
Consultants and General Contractor:
BSPARK Architecture
Cognitive Design
TD&H Engineering
Eclipse Engineering
Fourfront Design, Inc.
Northfork Development
Rainbow International
Peter Law Offices
Guy Tabacco Construction
Funders and Financing:
Glacier Bank
Mountain Plans Equity Group
City of Great Falls, Planning and Community Development
Montana Department of Commerce, Montana Housing
Cascade County
Federal Home Loan Bank of Des Moines, Affordable Housing Program
Great Falls Housing Authority
Great Falls Development Authority
Montana Healthcare Foundation
NeighborWorks Great Falls
Homeword, Inc.