CLOSING THE HOMEOWNERSHIP GAP

Thanks to the generosity of the Missoula Organization of Realtors (MOR), we were able to serve as co-sponsors of Missoula Pride alongside their organization this summer. Together we united under the slogan "Homes For All" and tabled at the Pride events downtown.
Our homebuyer educator, Julie Pavlish, and other Homeword team members were able to reach hundreds of LGBTQ+ people among the Pride participants from around the state with information about our homebuyer education and free, statewide financial skill building classes.
According to a 2021 report from the LGBTQ+ Real Estate Alliance and Freddie Mac, the homeownership rate for the LGBTQ+ community is only 49%, whereas the overall U.S. population has a homeownership rate of 70.1%.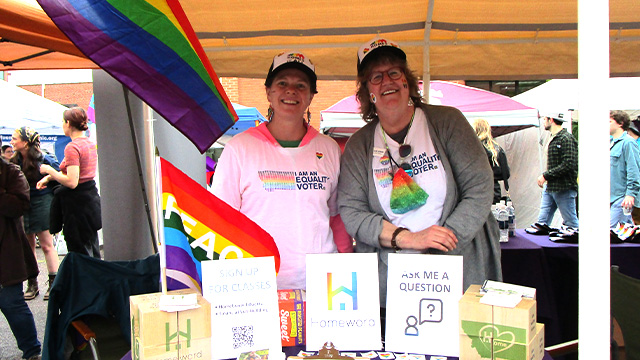 In today's difficult and competitive conditions, many people are waiting longer to realize their goals of purchasing homes or foregoing homebuying altogether. Reflected in the more than 20% disparity in homeownership, the LGBTQ+ community has even more challenges when it comes to renting or purchasing a home.
Research conducted by Freddie Mac and the Alliance in 2022 shows a significant number of those surveyed reporting evidence of discrimination based on sexual orientation and gender identity against potential homebuyers during the renting or homebuying process. Among their barriers to buying a house is being fearful of discrimination.
The top barriers surveyed LGBTQ+ renters reported to buying a home included feeling that home prices were beyond their means, saving for a down payment, wanting more education about the buying process and short-term financial concerns.
By being strong LGBTQ+-friendly allies and working to break down some of these barriers with education and counseling, we hope to make a difference. Our services can prepare people financially and empower them with knowledge to make them more confident when pursuing buying a home.
Pride was an important and exciting opportunity for us to support our LGBTQ+ neighbors and their success as renters or homebuyers. Informing participants about the work we do, including education and one-on-one financial and homebuyer counseling, is a small step we can take toward closing the homeownership gap and ensuring there are homes for all.