Homeword's newest development is a small one.
…No, think tiny.
…Even smaller than that! It's not a home at all. It's a little free library and food pantry!
Partnering with the University of Montana, we hosted a group of 36 new students as part of their freshman orientation, or "Big Sky Experience." We shared with them how our organization uses sustainable methods to create homes and strengthen communities throughout Montana. Then, supplied with paintbrushes and hammers, we put the students to work on a sustainable build of their own.
In the way that Homeword repurposes existing structures for new use in developments such as Ouellette Place and Crowley Flats, the college freshman constructed the little free library and pantry using primarily salvaged materials. The "existing structure" in this case was a solid-wood cabinet we found at Home ReSource that had once belonged to a church. Together we sanded, primed, painted and added on to it to give the cabinet new life.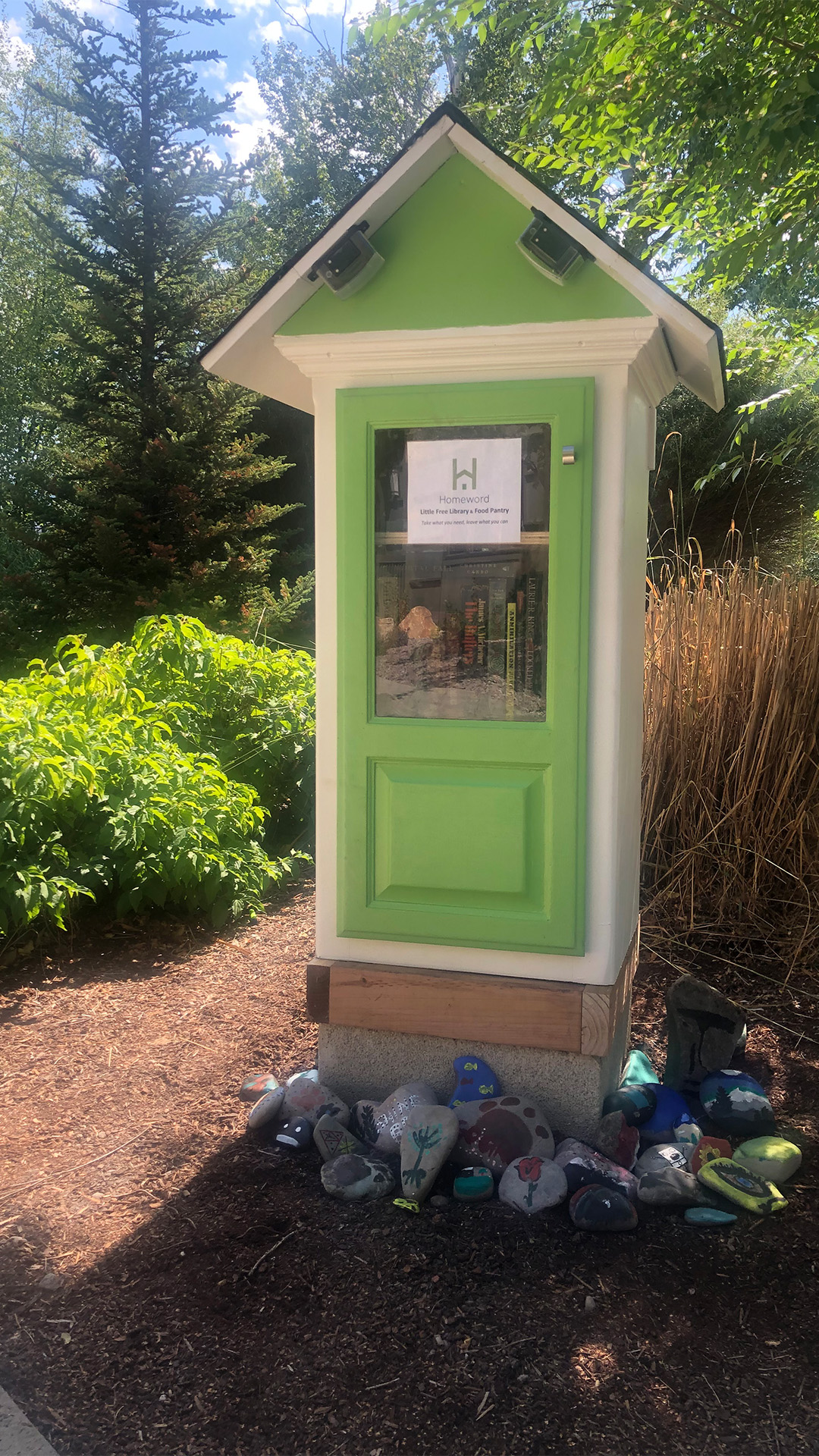 Students covered the roof with tarpaper and shingles, again sourced from Home ReSource, and used a concrete chimney block from Waste Less Works as the structure's base. Community members donated wood for the roof and shelves, the door pull and paint leftover from their home remodel, so we only had to buy a few new items to complete the project.
The addition of solar lights to the cabinet represented another nod to Homeword's sustainable building practices. Above the door, just under the eaves, we installed two small solar LED lights. They resemble solar arrays incorporated into the design of many of our properties—only on a miniature scale.
Not only was this project a hands-on lesson in sustainable development, but we also focused on how the students are part of the Missoula community. As part of their experience with us, students learned about urgent issues of inequity in America, applying what they learned in discussions and bringing it to the project as well.
Keeping community in mind, we installed the library and pantry between our Solstice and Equinox properties where the sidewalk meets the river trail. The placement ensured residents of these properties and community members passing by could easily spot and access it.
Just before heading to the bus stop and catching their ride back to UM, the students stocked the shelves with food and books donated by Homeword staff members. The group considered the aesthetics of the design, decorating around the base of the structure with painted river rocks. They also created bookmarks to put inside each of the books with upcycled paperboard and donated craft materials.
It may be small, but already the little free library and food pantry has had a big impact on the community. The same day it went up, we saw children on scooters stop and peek inside. A few days later, we received a thank-you card from a Solstice resident who noticed the new library and pantry, and in a week's time its contents had been emptied and filled up again.
Thank you, UM students! Your hard work will enrich our little corner of Missoula and continue to benefit local families, children, seniors and veterans for years to come. We hope it has enriched your lives, too, as you go on to be leaders and change agents in your college careers and beyond.