COMMUNITY SOLUTIONS TO COMMUNITY CHALLENGES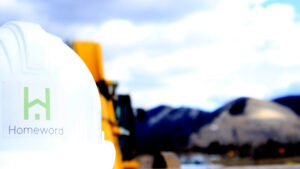 Montana communities are stronger when everyone can afford safe, healthy homes, yet Montana rental and home listing prices are rising so rapidly it takes our breath away. Our communities are changing, and people are facing some tough challenges as a result. As the market intensifies, the demand for our work in Missoula and statewide increases as does the need for community solutions.
It's no secret the skyrocketing rental and real estate market is challenging for Montanans from all walks of life. The cost of rentals and homes for sale continues to increase at alarming rates in comparison to incomes. Local workers, seniors, veterans and families are trying to keep their homes and pay for other necessities. Businesses are striving to provide great service and retain employees on local wages.
The Missoula Organization of Realtors (MOR) recently released its 2022 Five Valleys Housing Report, which we contribute to, illustrating some of those changes. MOR's report indicates a third of the households in Missoula County spend more than 30% of their income on rents or mortgages plus utilities. Known as being cost-burdened, this means that 16,312 households in Missoula County have little left for food, transportation, health, childcare, education, debt, etc. after covering their home costs.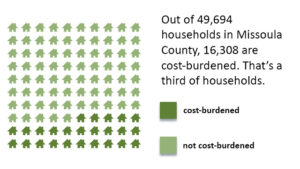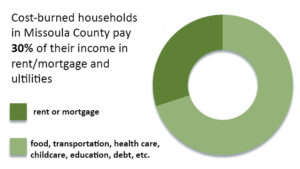 Someone living on the average Missoula renter wage of $13.20 per hour, for example, has just $650 for everything else after paying for average rent and utilities. Our Cost of Living Activity demonstrates the difficulty of balancing a budget to meet basic needs on that income. Nearly half of the renters in Missoula County can barely cover necessities, much less save for a down payment or purchase a home, when the median home price is now over $500,000.
The impacts of this tightening market are all around us. Renters' homes are sold out from under them, and they can't find other places to rent in their budgets. Seniors can't afford dignified places to live on their retirement funds. Families are facing childcare costs of $800-1,000 per child in addition to home costs that are two and three times that. Many people express fear of losing our sense of community as friends and neighbors are forced to move out of the area and it feels like the average worker can't make ends meet.
Many other Montana communities are experiencing similar trends. While this information can be overwhelming and discouraging, there's hope for Montana communities in the form of their community members themselves.
Montanans are known for being determined, enterprising and community-minded. We do best when we use our strengths and come together for a common good. And that's exactly what's happening.
We at Homeword are partnering with many businesses, organizations and people in Missoula and around the state to address these challenges. We are working with a large network of partners in Missoula and around the state to make sure Montanans are supported and learning key skills, whether they're renting long-term, buying a home or staying in a home that's been passed down for generations.
We expanded our Financial Skill Building program, for example, to the NeighborWorks Montana network of HUD-Certified Housing Counselors, certifying them in our holistic method of free, multi-month financial coaching. Our statewide partners have joined us in teaching critical financial skills and addressing participants' complex financial issues, ranging from rent or mortgages they can't afford to staying on track with long-term financial goals that seem out of reach. This financial coaching is free for all Montanans.
We're also partnering with other organizations to create more homes Montanans can afford to rent. A total of 2,000 Montanans live in our rental homes, including veterans and local workers as well as 488 seniors, 372 people living with disabilities and 637 children. We are currently creating another 381 rental homes in four Montana communities, 365 developed with partners and all requiring collaboration with local, regional and state partners in both the public sector and private industry.
GMD Development is partnering with us to build 138 new homes in Kalispell. NeighborWorks Great Falls is partnering with us on a historic renovation of 25 apartments in Great Falls. And our partnership with BlueLine Development and the Missoula Housing Authority is creating the largest number of rental homes we've ever built at one time in Missoula – the 202 Trinity Apartments.
Homeword is also a leading member of the Montana Housing Coalition. We are participating in local and statewide conversations to shape city and state policies that impact creating rental homes, guiding people through financial challenges and determining people's best paths to homeownership.
Together, organizations and businesses are leveraging private/public partnerships to provide Montanans with critical opportunities to live and thrive in this beautiful state we love. And we're surrounded by community members who are using their creativity to make a positive impact as well:
We've heard many stories of people selling their homes to their renters or to local workers and families for less than going market rates. One of our employees was able to purchase their home from their landlords for less than market price just this year.

While other homes are going for tens of thousands of dollars over the asking price, one builder held a drawing of qualified buyers to avoid any bidding wars and artificial inflation.

Other builders are exploring how to offer a percentage of their homes in a new development to people in Missoula living on an average income at a price that wouldn't cost burden them. (We will share more information about this when it becomes available)

The City of Missoula's housing plan,

A Place to Call Home, includes a Land Banking Strategy to further affordability goals in high opportunity areas like the Scott Street Development concept on the former White Pine Sash location in Missoula's northside. The city is also creating a Voluntary Incentives Plan to encourage private developers to include homes in their new developments that people with low-to-moderate incomes can afford to buy.

Organizations are using the Community Land Trust (CLT) model to sell homes for only the price of the home, keeping the land in a trust so that the home price is greatly reduced.
These are just a few examples of the creative solutions Montanans are generating in response to the market. None of us can solve everything, but we can each do something. Our combined efforts can create positive change and strengthen our communities.
There are many opportunities to participate in the problem-solving process, and we invite you to join us in creating community solutions for Montanans. We need your ideas and your help advocating for critical policies that allow for community solutions like community land trusts and a variety of home types.
Here are some ways you can help:
Stay connected about ongoing advocacy efforts:

Sign up for our newsletter at the bottom of this page

Email

[email protected]

with the subject line "Advocacy Efforts"

Contact your representatives

about your ideas, your concerns and ask what policies could be in place in your area to make a difference for your neighbors.

Connect with your Montana Legislators

Reach out to Montana's federally elected officials

Communicate with your city and county officials

Participate in local groups:

Share your own creative solution

s

– with us, with your neighbors, with community leaders

Donate

in support of our work across Montana
Thank you! Together we will continue strengthening Montana communities.
Jessica Burson for Homeword's Fundraising and Communications Team